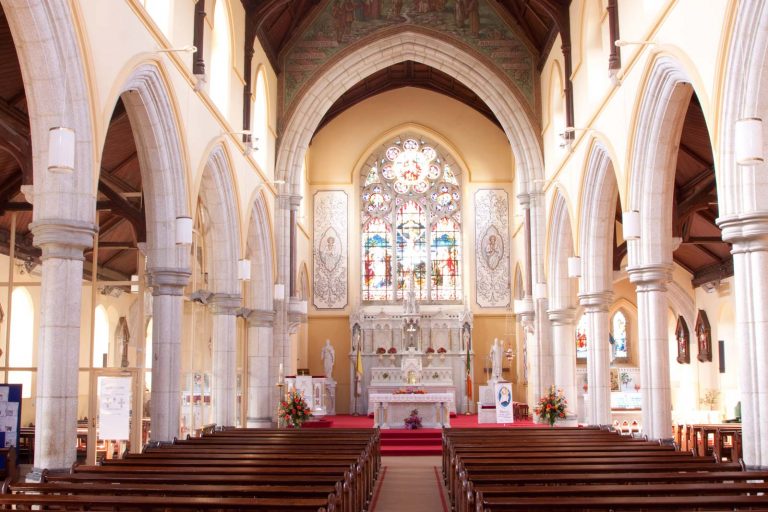 Tuesday & Wednesday, 5th & 6th December
Mass at 9.30 a.m.
Thursday, 7th December
Vigil Mass at 7.30 p.m.
Rosary - each day before Mass
Friday, 8th December - Holy Day - Feast of the Immaculate Conception
Mass at 11.30 a.m.

Eucharistic Adoration Friday 4 - 7 p.m.
Saturday
Mass at 7.30 p.m.
Sunday
Mass at 11.00 a.m.
Date of Church: 1887
Style: Gothic
Architect: William Hague
Builder: John Harris, Monasterevin
Building Pastor: Fr. Patrick C. Nolan P.P.
RATHVILLY (RATH-BHILE; THE FORT OF THE GREAT TREE).
Bile referred to a large tree held in veneration, usually where chiefs were inaugurated, or games celebrated. A great insult was for one tribe to cut down the ceremonial tree of another. Such a tree must have existed in Rathvilly.
The Rath is thought to have formed a link in a series of earthen forts which included Eagle Hill, Clonmore, Tullow and Castlemore.
Crimthann, who became King of Leinster in 443, is said to have been baptised by St. Patrick with his family at Rathvilly in 450.
Building began on the present church in 1883. Stone came from granite quarries in the vicinity. The church is described in The Nation as "comprising nave, aisles, chancel, two side chapels, large sacristies, with parochial room over same, and tower and porch to the north and south aisles respectively. The clear length inside is 127ft., width 28ft., chancel 28ft. x 27ft, and the height of the nave and chancel 60ft. to ridge. The aisles are divided from the nave by five bays of granite moulded arches".
Fr. Patrick C. Nolan, P.P. 1855-1885, died before the church was completed. It opened in 1887 when Fr. John Phelan was P.P.
Fr. Bernard Ryan P.P. (1983-1993) had the Church interior re-ordered in 1988.
A Prayer Room was provided close to the Pulpit.